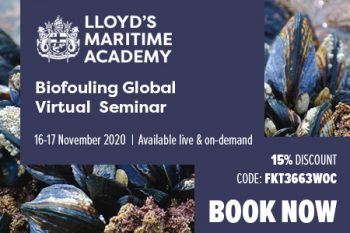 The Biofouling Global Virtual Seminar, presented by Lloyd's Maritime Academy, will be convening global public and private stakeholders to focus on the best practices, latest solutions and the next steps for controlling biofouling and invasive species.
Themes and sessions under development include:
GEF-UNDP-IMO GloFouling Partnerships Project

Market overlook and the current stage of biofouling management: Global multi-sector challenges & opportunities

IMO – An update on the review of the Biofouling Guidelines

Shipowner's voice: How can shipowners and regulators work together toward eco-friendly shipping?

Evaluations of ship biofouling in-water cleaning systems

Case study: Quantifying the scale of the global barnacle fouling problem

The value of forming a working team integrated by professionals from different technical areas
For more information on the program, visit https://bit.ly/2PwbhZD
The WOC is the lead partner for engaging the participation of the ocean business and investment community in the 5-year GEF-UNDP-IMO GloFouling Partnerships Project. Over the long term, the WOC will continue its work with the diverse ocean business community to develop best practices, investment and innovation to tackle biofouling and invasive species.
The World Ocean Council (WOC) is a Supporting Organization of the Biofouling Global Virtual Seminar. WOC Stakeholders are eligible for a 15% discount on the registration fee for the seminar. To benefit from this discount, enter the code FKT3663WOC during registration, or register via this link: https://bit.ly/2PwbhZD