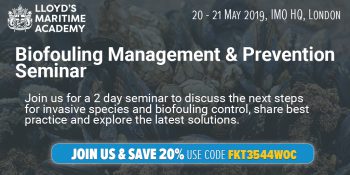 The Biofouling Management & Prevention Seminar was a two-day event discussing the next steps, best practices and latest solutions for invasive species and biofouling control. Topics included, inter alia, impacts of marine bio-invasions via hull fouling, ecological issues arising from in-water cleaning and the use of biocidal anti-fouling coatings, the GloFouling Project launch, an overview of IMO guidelines and upcoming reviews etc.
WOC CEO Paul Holthus chaired Day 1 of the seminar and spoke on the GloFouling Project.
For more information, visit the conference website at https://goo.gl/R7ocBz
The World Ocean Council was a Supporting Association of the seminar. Members of the WOC Network were eligible for a 20% registration discount.