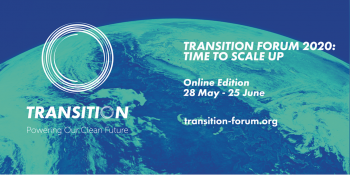 The 3rd annual TRANSITION FORUM is coming to you! From 28 May through 25 June 2020, join global climate innovators, business leaders, investors and visionaries online to tackle the climate emergency in an interactive, digital format.
The COVID-19 crisis is a harsh reminder of how the health of people and the health of our planet are interconnected, and of the need to rethink our business models and lifestyles. It is more important now than ever to accelerate the transition to a resilient, sustainable and inclusive future.
Under the theme "Time to Scale Up", world-class speakers will share high-level insights on the urgency of scaling up collective action to ensure the transition towards a low-carbon economy.
Plenary discussions every week in June will focus on key challenges and innovative solutions in four key areas being transformed by the ecological transition: Food, Housing, Mobility, Production & Consumption.
WOC CEO Paul Holthus spoke in Plenary IV – Mobility on 18 June.
Click here to access Paul's interview with Hub Culture for the TRANSITION FORUM 2020.