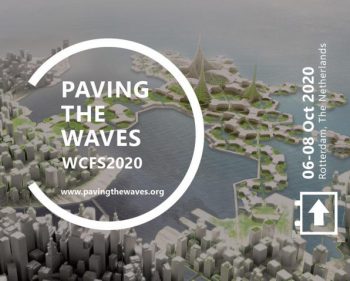 The World Conference on Floating Solutions 2020 (October 6-8, Rotterdam) will bring together industry, policymakers, entrepreneurs and researchers around the future of structures for offshore and inland waters in the context of sustainable development. The event represents the 1st ever conference in Europe that focuses on floating solutions and taking place in a floating building
Registration for standard tickets (physical attendance) will expire on 16 September 2020. Registration for digital tickets (online attendance) will expire on 26 September 2020, with the option for upgrading to a standard ticket before 16 September. Register now to secure your space at the World Conference on Floating Solutions!
The event will:
Disseminate state-of-the-art knowledge about floating development.
​Raise awareness of sustainable use of inland/open waters through floating structures as a climate-adaptive measure for urban and offshore development.
Foster multidisciplinary and international collaboration to improve the collective understanding of floating solutions.
Establish a community of practice and take stock of emerging approaches in floating innovation.
Identify knowledge gaps and share insights regarding the sustainable expansion of coastal cities on water.
World Ocean Council CEO Paul Holthus has been invited as a Keynote Speaker to speak alongside an Ocean Investments panel on Day 1, October 6. For more information on the developing program, click here.