The world's governments have finalized an historic agreement on protecting marine biodiversity in international waters — the treaty on Biodiversity in Areas Beyond National Jurisdiction (BBNJ) — after nearly 10 years of negotiations.
The new U.N. High Seas Treaty, as it is now known, covers the two-thirds of the ocean that lies outside national boundaries — nearly 50% of the planet's surface. It provides a legal framework for establishing management areas and marine protected areas (MPAs), requiring environmental impact assessments (EIAs), building capacity and transferring marine technology, and sharing the benefits of the genetic resources of the high seas.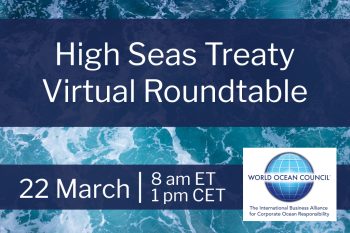 The World Ocean Council (WOC) is organizing a Roundtable on the High Seas Treaty on 22 March 2023.
The virtual meeting will brief the ocean business, investment and legal communities on the treaty's implications for ocean economic activity, including the important opportunities for ocean industries to proactively engage in ensuring a healthy, productive, well-managed global ocean.
WOC Roundtables are by invitation only, designed to bring together relevant stakeholders for high-impact discussions. If you would like to attend the WOC High Seas Treaty Roundtable, please submit the invitation request.
The WOC has been participating in the BBNJ process for well over a decade, working to ensure the global ocean business community was informed and engaged. The WOC has been the only business organization consistently involved in the informal and formal BBNJ process and following that up with inter-sessional outreach to the global ocean business community, e.g. via webinars, briefing sessions at the WOC Sustainable Ocean Summit (SOS) and analysis of the treaty text for the private sector.