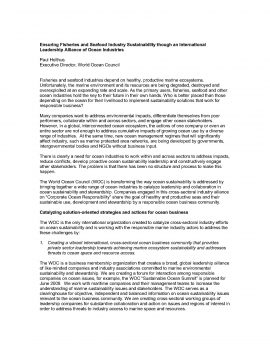 Click here to access the full article.
Fisheries and seafood industries depend on healthy, productive marine ecosystems. Unfortunately, the marine environment and its resources are being degraded, destroyed and overexploited at an expanding rate and scale. As the primary users, fisheries, seafood and other ocean industries hold the key to their future in their own hands. Who is better placed than those depending on the ocean for their livelihood to implement sustainability solutions that work for responsible business?
Many companies want to address environmental impacts, differentiate themselves from poorperformers, collaborate within and across sectors, and engage other ocean stakeholders. However, in a global, interconnected ocean ecosystem, the actions of one company or even an entire sector are not enough to address cumulative impacts of growing ocean use by a diverse range of industries. At the same time, new ocean management regimes that will significantly affect industry, such as marine protected area networks, are being developed by governments, intergovernmental bodies and NGOs without business input.