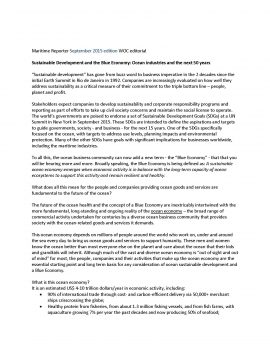 Click here to access the full article for Maritime Reporter.
"Sustainable development" has gone from buzz word to business imperative in the 2 decades since the initial Earth Summit in Rio de Janeiro in 1992. Companies are increasingly evaluated on how well they address sustainability as a critical measure of their commitment to the triple bottom line – people, planet and profit.
Stakeholders expect companies to develop sustainability and corporate responsibility programs and reporting as part of efforts to take up civil society concerns and maintain the social license to operate. The world's governments are poised to endorse a set of Sustainable Development Goals (SDGs) at a UN Summit in New York in September 2015. These SDGs are intended to define the aspirations and targets to guide governments, society – and business – for the next 15 years. One of the SDGs specifically focused on the ocean, with targets to address use levels, planning impacts and environmental protection. Many of the other SDGs have goals with significant implications for businesses worldwide, including the maritime industries.
To all this, the ocean business community can now add a new term – the "Blue Economy" – that that you will be hearing more and more. Broadly speaking, the Blue Economy is being defined as: A sustainable ocean economy emerges when economic activity is in balance with the long-term capacity of ocean ecosystems to support this activity and remain resilient and healthy.