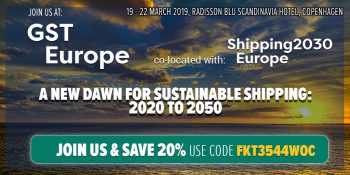 World Ocean Council CEO Paul Holthus spoke on "The Role of Shipping in 'The Blue Economy'" and "Why Ocean Plastics Matter and How our Industry can Help" at GST Europe, 20-21 March, Copenhagen.
With the theme of "A New Dawn for Sustainable Shipping: 2020 to 2050", Green Ship Technology (GST) 2019 (20-21 March, Copenhagen) will be focusing on solutions to decarbonize the shipping industry and minimize its environmental impact – from the sulphur cap and BWM convention, to climate change and ocean plastics.
For details on the program, visit https://goo.gl/GyiByy.
The World Ocean Council is a Supporting Association of GST Europe. Members of the WOC Network were eligible for a 20% discount on the registration fee.