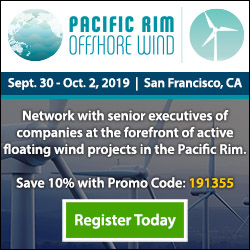 14 companies have made the first move towards floating offshore wind projects on the West Coast, and offshore wind development is in full swing in Taiwan, Korea, Japan and other Asian countries. These new projects require different technologies, supply chains, and construction methods than those used for most European or Atlantic Coast projects. But major questions remain for those poised to pursue these opportunities:
How quickly are offshore wind projects ramping up on both sides of the Pacific?
What do C-level executives think about the prospects for developing gigawatts of offshore wind to meet national and state carbon reduction goals?
How are federal and state policymakers developing the framework to support West Coast project development?
How quickly can new turbine, cable and other technologies be commercially proven and readily available?
The Pacific Ocean Energy Trust (POET) and Infocast bring together key players to the first event to focus on Pacific Rim Offshore Wind opportunities. Attend the Infocast/POET Pacific Rim Offshore Wind conference to evaluate markets, influence the energy and environmental policy road map, and explore the potential to form Trans-Pacific partnerships.
The World Ocean Council is a Supporting Organization of the Summit. WOC Members are eligible for a 10% discount on the registration fee, details of which can be found in the WOC Members Pages. For enquiries, please contact info@oceancouncil.org
More information about the summit is available at http://bit.ly/2Z8F6X5.