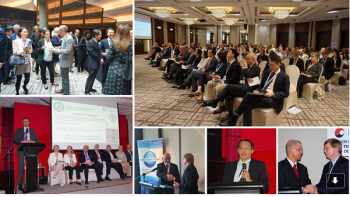 The 6th Sustainable Ocean Summit just ended after three tremendous days in Hong Kong. As Maisie Cheng, Director of Marine, Hong Kong SAR, highlighted so well during the Welcome Reception, Hong Kong serves as an international maritime centre characterised by a vibrant maritime services cluster.
This year marks a historic participation record for the Sustainable Ocean Summit. Indeed 250 participants from the Ocean Business Community of 30 different nationalities met at the New World Millennium Hotel to advance action on Ocean Sustainable Development and the Blue Economy around the theme "Ocean Sustainable Development – Connecting Asia and the World". Among the different topics that captivated the public: Women in Ocean Industries, Asian Shipping, Ocean and Climate, Asian Ports and Sustainable Development, Shipbuilding for Sustainability, Sustainable Fishing and Aquaculture …
Kenneth C. K. Koo, SOS 2018 Conference Chair, Chairman and CEO, TCC Group, James Michel, Former President, Seychelles, Peter Thomson, Special Envoy for the Ocean, United Nations, Serge Segura, Ambassador for the Oceans, France, Helen Huang, President, Greater China, MSC Cruises, Patrick Verhoeven, Managing Director-Policy and Strategy, International Association of Ports and Harbors (IAPH), Astrid Skala-Kuhmann, Special Advisor G20, Belt and Road Initiative, Deutsche Gesellschaft für Internationale Zusammenarbeit (GIZ), Despina Panayiotou Theodosiou, CEO, TOTOTHEO Maritime; President, Women's International Shipping and Trading Association (WISTA International), attended the event among the Ocean Business leaders, high-levels representatives, senior environment and sustainability officers.
"The Ocean brings us together, we look forward to continue our work because we all believe in Sustainable Ocean Development", Paul Holthus, Founding President and CEO, World Ocean Council
"Getting the balance right between production and protection, business is the engine to make this happen" Peter Thomson, Special Envoy for the Ocean, United Nations
The Sustainable Ocean Summit is a Climate Neutral Event thanks to RightShip (https://site.rightship.com/). Event emissions from 13 to 16 November 2018, will be offset by investing in a South Pole emission reduction project.
The 7th edition of the Sustainable Ocean Summit will be held in Paris, 20-22 November 2019.