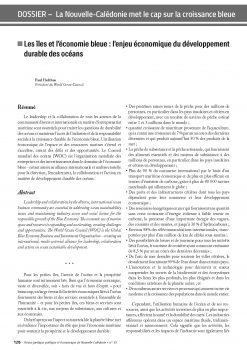 Click here to access the full article in English.
Click here to access the full article in French.
Leadership and collaboration by the diverse, international ocean business community are essential in addressing ocean sustainability issues and maintaining industry access and social license for the responsible growth of the Blue Economy. The economic use of marine space and resources is expanding and accelerating, creating challenges and opportunities. The World Ocean Council (WOC) is the Global Blue Economy Business and Investment Organization – creating an international, multi‐sectoral alliance for leadership, collaboration and action on ocean sustainable development.
For small islands, the future of the ocean and human prosperity are intertwined. Although the vast and diverse, the ocean economy is "out of sight and out of mind" for many, a broad range of ocean-related economic activities provide critical goods and services to the whole of humanity – and for small islands, these are critical to lives, livelihoods, cultures and economies.