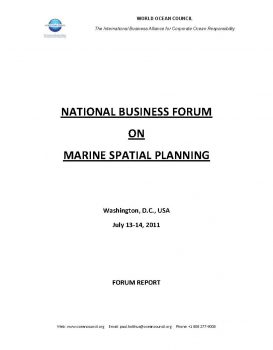 Click here to access the full report.
The World Ocean Council (WOC) National Business Forum on Marine Spatial Planning (MSP), 13-14 July, Washington, D.C. drew together more than 65 business leaders from a range of ocean industries, along with representatives of Non-Governmental Organization (NGO) NGOs and government agencies involved in MSP. The industries represented included oil and gas, shipping, fisheries, mining, offshore renewable energy, maritime law, marine tourism, marine technology, marine environmental services, and others.
The National Business Forum on MSP was organized by the WOC in partnership with Battelle Memorial Institute. The conference was also sponsored by the National Ocean Industries Association and Blank Rome.