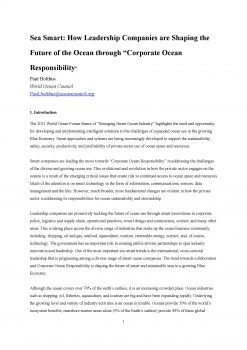 Click here to access the full article.
The 2011 World Ocean Forum theme of "Emerging Smart Ocean Industry" highlights the need and opportunity for developing and implementing intelligent solutions to the challenges of expanded ocean use in the growing Blue Economy. Smart approaches and systems are being increasingly developed to support the sustainability, safety, security, productivity, and profitability of private sector use of ocean space and resources.
Smart companies are leading the move towards "Corporate Ocean Responsibility" in addressing the challenges of the diverse and growing ocean use. This evolutional and revolution in how the private sector engages on the oceans is a result of the emerging critical issues that create risk to continued access to ocean space and resources. Much of the attention is on smart technology in the form of information, communications, sensors, data management and the like. However, much broader, more fundamental changes are evident in how the private sector is addressing its responsibilities for ocean sustainability and stewardship.