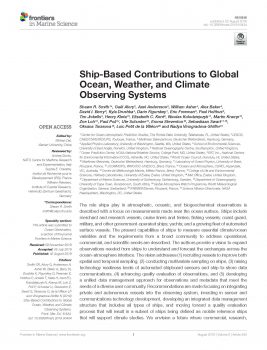 Click here to access the full paper.
The role ships play in atmospheric, oceanic, and biogeochemical observations is described with a focus on measurements made near the ocean surface. Ships include merchant and research vessels; cruise liners and ferries; fishing vessels; coast guard, military, and other government-operated ships; yachts; and a growing fleet of automated surface vessels. The present capabilities of ships to measure essential climate/ocean variables and the requirements from a broad community to address operational, commercial, and scientific needs are described.
The authors provide a vision to expand observations needed from ships to understand and forecast the exchanges across the ocean–atmosphere interface. The vision addresses (1) recruiting vessels to improve both spatial and temporal sampling, (2) conducting multivariate sampling on ships, (3) raising technology readiness levels of automated shipboard sensors and ship-to-shore data communications, (4) advancing quality evaluation of observations, and (5) developing a unified data management approach for observations and metadata that meet the needs of a diverse user community.
Recommendations are made focusing on integrating private and autonomous vessels into the observing system, investing in sensor and communications technology development, developing an integrated data management structure that includes all types of ships, and moving toward a quality evaluation process that will result in a subset of ships being defined as mobile reference ships that will support climate studies.
We envision a future where commercial, research, and privately owned vessels are making multivariate observations using a combination of automated and human-observed measurements. All data and metadata will be documented, tracked, evaluated, distributed, and archived to benefit users of marine data. This vision looks at ships as a holistic network, not a set of disparate commercial, research, and/or third-party activities working in isolation, to bring these communities together for the mutual benefit of all.
Citation:
Smith SR, Alory G, Andersson A, Asher W, Baker A, Berry DI, Drushka K, Figurskey D, Freeman E, Holthus P, Jickells T, Kleta H, Kent EC, Kolodziejczyk N, Kramp M, Loh Z, Poli P, Schuster U, Steventon E, Swart S, Tarasova O, de la Villéon LP and Vinogradova-Shiffer N (2019) Ship-Based Contributions to Global Ocean, Weather, and Climate Observing Systems. Front. Mar. Sci. 6:434.