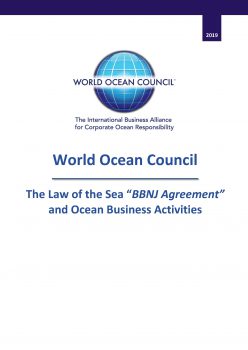 The World Ocean Council (WOC) is keeping industry informed and engaged in the U.N. negotiations to expand the Convention on the Law of the Sea (UNCLOS) to include a new legally binding instrument on the conservation and sustainable use of marine life in areas beyond national jurisdiction (BBNJ).
A 2-page WOC briefing on the BBNJ and implications for ocean industries can be found here.
Can the Ocean Business Community participate in the BBNJ negotiations?
States are the only actors able to negotiate treaties and binding agreements. But the UN has been creating opportunities for accredited stakeholders to participate as observers given their role in international governance and sustainable development. The Ocean Business Community will be the primary stakeholder group affected by the new BBNJ regulation of high seas activities. Given this, it is critical that ocean industries are aware of, and engaged in, the BBNJ negotiations. The World Ocean Council (WOC) is working to develop and deliver business involvement and input to the BBNJ.
What is the role of the World Ocean Council in the BBNJ process?
The WOC is an accredited observer to the BBNJ negotiations and has been the only private sector organization regularly participating in the overall BBNJ process since it began over a decade ago.
One of the key ways that the WOC is implementing its role is by developing the WOC BBNJ Business Coalition as an alliance of key ocean industry organizations and companies which are collaborating to systematically, strategically interact and engage in the BBNJ process with a coordinated voice.
The WOC is working to ensure that the global Ocean Business Community:
Is communicating and collaborating amongst the diverse ocean business sectors
Is developing the synergies and strengths of a collective Ocean Business Community
Is informed of BBNJ developments and physically present at the negotiations and side events
Is aware of gaps, solutions and opportunities in the BBNJ process
Can readily provide input to BBNJ documents, including the draft treaty text
Participates in WOC's BBNJ seminars, webinars and Sustainable Ocean Summit sessions
Communicates with, and engages, governments, the UN and other stakeholders