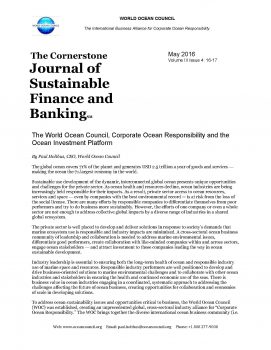 Click here to access the full article for the Journal of Sustainable Finance and Banking.
The global ocean covers 71% of the planet and generates USD 2.5 trillion a year of goods and services — making the ocean the 7th largest economy in the world.
Sustainable use development of the dynamic, interconnected global ocean presents unique opportunities and challenges for the private sector. As ocean health and resources decline, ocean industries are being increasingly held responsible for their impacts. As a result, private sector access to ocean resources, services and space — even by companies with the best environmental record — is at risk from the loss of the social license. There are many efforts by responsible companies to differentiate themselves from poor performers and try to do business more sustainably. However, the efforts of one company or even a whole sector are not enough to address collective global impacts by a diverse range of industries in a shared global ecosystem.