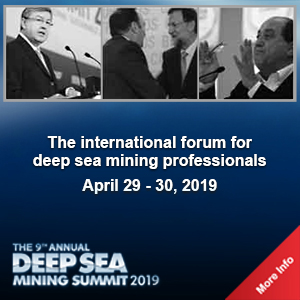 The Deep Sea Mining Summit 2019 brought together a large array of solution providers, upcoming deep sea miners, members from the scientific community, and those within allied industries wanting to learn more about the opportunities within this emerging marketplace.
Following the huge success of the previous Deep Sea Mining Summit, this year's objective was to build on and identify new and innovative technology developments, technical know-how's, and to focus on the real challenges which face a new breed of deep sea miners and industry providers. Case studies and real results addressed the issues.
Key topics on the agenda included:
The economic landscape and growth for deep sea mining
Achieving sustainable seabed mining projects in harmony with nature
The status of prospecting and exploration, the latest methods and results
Regional opportunities to harvest Seafloor Massive Sulphides and Manganese Nodules
Working with nations through a regulatory framework, the opportunities and risks
Technological developments associated with commercialising Deep sea mining
For more information, visit the conference website at https://deepsea-mining-summit.com/
The World Ocean Council was a Supporter of the Deep Sea Mining Summit. WOC Members were eligible for a 20% registration discount.