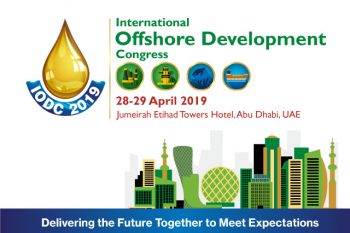 WOC CEO Paul Holthus presented on "The Future of Offshore Oil and Gas: Exploration and Production in a Crowded, Impacted, Multiple-Use Ocean" in the panel "Facing Current Offshore Business Challenges" at the International Offshore Development Congress (IODC 2019) held in Abu Dhabi on 28-29 April 2019.
The 1st International Offshore Development Congress (IODC) 2019 is set to be held annually in GCC and will be the region's premier event dedicated to the offshore industry. The event was organized by Arab Association of Petroleum Professionals (AAPP) & Maarefah Management Energy and Advisory and Technical Committees, and took place from 28 – 29 April 2019 at the Jumeirah Etihad Towers Hotel, Abu Dhabi, United Arab Emirates. In keeping with the theme, "Delivering the Future Together to Meet Expectations" industry figures & key experts in the relevant fields spoke at the congress Technical and Panel Sessions.
IODC 2019 was the premier meeting place for Oil & Gas companies, stakeholders and interested parties of the relevant sectors related to offshore development. This unique gathering promoted discussion, debate and education for engineers, technical experts and industry leaders ensuring topical and current challenges are addressed. In addition, the congress comprehensively examined regional & international offshore developments from a specialized perspective whilst emphasizing our commitment to energy and the environment.
For more information, visit the conference website at: http://www.cvent.com/events/international-offshore-development-congress-iodc-/event-summary-322cf160de0c4bc1b00766e1f131d027.aspx
The World Ocean Council is a Strategic Partner of the IODC 2019. WOC Members were eligible for a 20% registration discount.