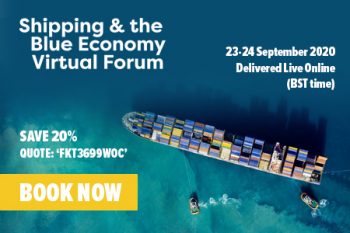 The Shipping & the Blue Economy Virtual Forum took place online on 23-24 September 2020 to convene discussions on how to finance innovative green technology, achieve a positive ROI and hit IMO targets. 
Finance and innovation for the blue economy: How to secure finance for business innovation with the current regulatory framework. Meet and network with banks, blue start-ups and industry regulators.
Shipowners perspectives: What are shipowners doing to hit 2050 targets? Find out which technologies and ship designs they are using to decarbonise the maritime sector. 
Market projections for 2030: The "blue economy" is expanding rapidly; hear from key stakeholders on green shipping developments in the next decade. 
Which fuel will prevail? Join interactive sessions with fuel producers and engine manufacturers on establishing a profitable fuel source with the necessary infrastructure. 
For more information, visit https://informaconnect.com/shipping-and-the-blue-economy-forum/.
The World Ocean Council is a Key Partner of the forum. 
WOC CEO Paul Holthus spoke in the session "Think globally, act locally: Engaging with oceans" on 23 September.