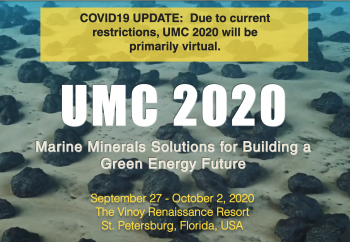 With the 2020 theme of "Marine Minerals Solutions for Building a Green Energy Future", the Underwater Minerals Conference (UMC) represents the world's largest annual gathering of ocean mineral stakeholders from over 25 countries, including government, academic and industry professionals.
The special metals found in rich deposits on the deep ocean floor are critical for smart electronics and crucial green technologies, such as solar power and electric cars. But as the world's population rises, demand is now outstripping the production from mines on land for some important elements, like cobalt. The ocean mining business players say the extraordinary richness of the underwater deposits mean the environmental impacts will be far lower than on land. But critics say exotic and little-known ecosystems in the deep oceans could be destroyed and must be protected. This is where the dilemma starts. How do we meet our needs and our responsibilities towards the environments we could impact?
The UMC 2020 will be providing a platform for researchers, business leaders, governing authorities and other stakeholders to share national policies on underwater mining, research findings on different regions of the ocean and the development of new technologies that can help better manage operations underwater.
The World Ocean Council (WOC) is a Sponsor of the UMC 2020. WOC CEO Paul Holthus will be speaking on 30 September at noon on "The Law of the Sea Amendment (BBNJ) and What this New Regulation Means to the Deep Seabed Mining Community".
For more information on the program and to register, click here.
To benefit from the reduced member rate of $99 for virtual attendance, please register first with the International Marine Minerals Society (IMMS) as a new member at this link. If you have any questions, please contact lazevedo@immsoc.org.
Due to COVID travel restrictions, UMC 2020 will be a primarily virtual event with limited in-person attendance. For more information, click here.