WOC Roundtables Explore Sector-Specific Biofouling Issues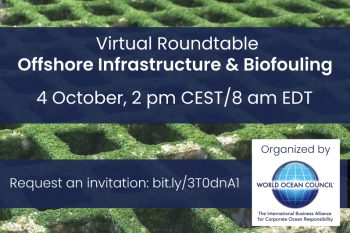 Join us online 4 October for the 3rd session in our Biofouling Roundtable series: Coastal Infrastructure, Dregding and Biofouling.
The 90-minute online session includes brief introductions and presentations, followed by an interactive discussion with an expert panel.
Topics include:
– Impacts of biofouling on coastal infrastructure and nearshore operations
– Practices to manage biofouling accumulation/impact and barriers to implementation
– Technology gaps in biofouling management for coastal facilities
This roundtable series included previous sessions on biofouling and offshore infrastructure such as renewable energy or oil and gas, as well as a session discussing the impacts of biofouling on the aquaculture industry (30 August).
The series is organized by the World Ocean Council, in support of the GEF-UNDP-IMO GloFouling Partnerships Project to address biofouling. The session is by invitation only.
---
Take the Biofouling Survey to Help Shape Best Practice & Universal Guidelines
To expand our reach and response, the World Ocean Council has relaunched its biofouling questionnaire as a short, sector-specific survey for the following industries:
– Offshore renewable energy
– Dredging
– Coastal infrastructure/construction
If your company/organization falls into one of these categories, we want to hear from you!
Your responses are critical to understanding the priorities and practices needed to combat biofouling, and will contribute to the development of universal guidelines for biofouling management in non-shipping sectors.
The World Ocean Council is the lead ocean industry partner for the GloFouling Partnerships Project, a collaboration between the Global Environmental Facility (GEF), United Nations Development Program (UNDP), and International Maritime Organization (IMO) to address biofouling.
---
Join Us for 2 Biofouling Sessions in Barcelona
WOC will hold the Sustainable Ocean Summit (SOS 2022) and Global Blue Finance Summit (BlueFIN 2022) 17-19 October in Barcelona, followed by [OCEANOVATION MEETUP x Barcelona](https://oceanovation.world/) from our Key Strategic Partner [Impact2Day](https://www.impact2day.co/) on the 20th. It's four days of essential ocean events in Barcelona, with biofouling management and prevention featured on the agenda.
Biofouling Session @ Sustainable Ocean Summit – SOS 2022
SOS 2022 will explore a range of issues focused on ocean solutions to climate change, including biofouling management.
Session
Marine Biofouling Management: Challenges, Opportunities & Synergies Across Different Ocean Industries
– What lessons, practices and technologies can be shared across industries?
– What are the innovation needs and investment opportunities?
– What is the international regulatory outlook and what is its potential impact on maritime sectors?
Moderator – Tina Liu, COO, World Ocean Council
Panelists
– John Alonso, Project Technical Analyst, GEF-UNDP-IMO GloFouling Partnerships, IMO
– Tor Østervold, CEO, ECOsubsea
– Bill Staby, former CEO, Resolute Marine Energy
– Mark Ko, Director, Tian San Shipping
– Ulrik Ulriksen, CEO, Steen-Hansen AS
Biofouling Pitchfest @ OCEANOVATION Meetup x Barcelona
World Ocean Council partnered with The Ocean Opportunity Lab (TOOL) to launch the first Biofouling Innovation Challenge, focused on innovative solutions and technologies to improve the prevention, management, and monitoring of marine biofouling.
Watch the 10 shortlisted finalists as they present their solutions in the Biofouling Challenge Pitchfest at OCEANOVATION MEETUP x Barcelona.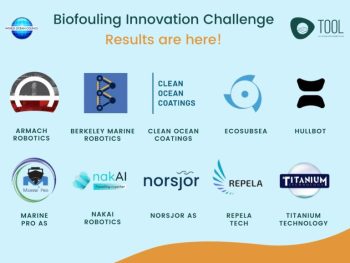 Finalists
– Armach Robotics Inc.
– Berkeley Marine Robotics Inc.
– Clean Ocean Coatings
– ECOsubsea
– Hullbot
– Marine Pro AS
– nakAI Robotics
– Norsjór
– Repela Tech
– Titanium Technology