The World Ocean Council (WOC) and The Ocean Opportunity Lab (TOOL) are collaborating to launch a global competition focused on innovative solutions and technologies to address marine biofouling. These solutions can help reduce greenhouse gas emissions and restore biodiversity in our ocean and coastal areas.
About the Biofouling Innovation Competition
Open to startups, innovators, researchers and collaborative initiatives (established corporates cannot participate)
Submissions will be accepted in 3 general categories: ​Anti-Fouling Systems, Surface Cleaning & Maintenance, Monitoring Biofouling & Measuring Performance
Solutions can be for any maritime industry or infrastructure affected by biofouling (e.g., ships, port infrastructure, aquaculture)
Less mature solutions with strong potential for breakthrough innovation will also be considered
Selected proposals will participate in the pitchfest during WOC's Sustainable Ocean Summit in October
Proposals from each category will also be featured on the TOOL Project Platform, TOOL Spawn, as Solutions to Watch
Deadline for submissions is July 30
For more information, contact Mikus Villeruss, Coordinator of the Biofouling Innovation Challenge, at coral@toolspawn.com or visit the TOOL blog.
---
Information Session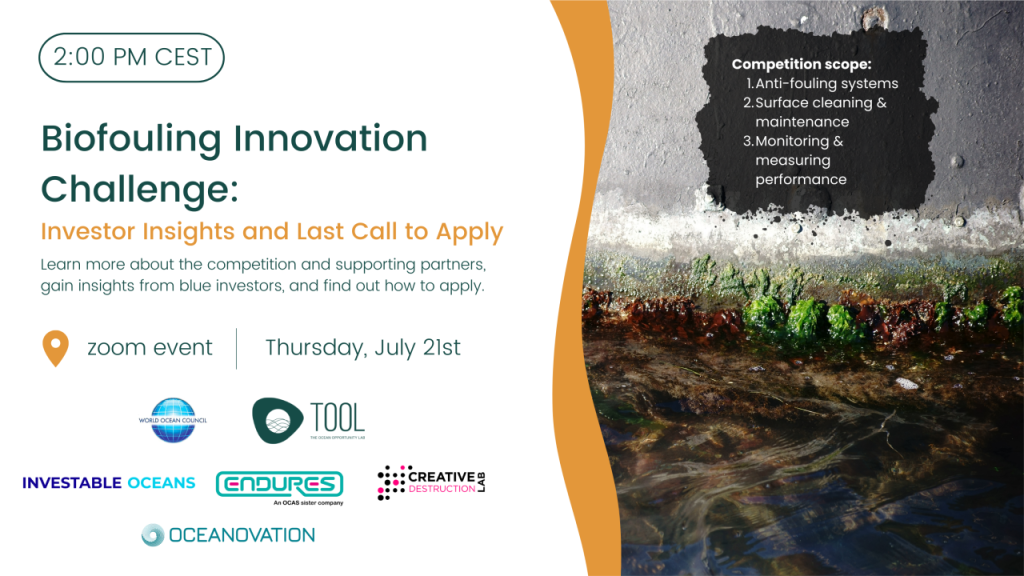 Biofouling Innovation Challenge: Investor Insights & Last Call To Apply
Thu, Jul 21 | 8-9:30 am EDT
In this session:
Investors discussion about importance of funding biofouling solutions
Introduction of jury members
Stories from first applicants about what motivated them to apply
Q&A
The Zoom link for this event will soon be available here: https://bit.ly/3NNDLJs
---
Competition Jury
Nina Blöcher – SINTEF Ocean, Senior Research Scientist
Geoffrey Swain – Florida Institute of Technology, Professor of oceanography and ocean engineering
Serena Teo – National University of Singapore, Senior Research Fellow
Oliver Floerl – Cawthron, Biosecurity Team Leader
John Lewis – IMarEST, Chair, Biofouling management SIG
Lina Ceballos – California State Lands Commission, Senior Environmental Scientist at California State Lands Commission
Nina Jensen – REV Ocean, CEO
Fredrik Myhre – WWF, Team Leader Oceans
Runa Skarbø – Bellona Foundation, Senior Advisor Maritime & Shipping, lead for the Clean Hull Initiative (CHI)
---
Past Biofouling Challenge Info Sessions
To learn more, join the discussion during one of two virtual launch events:
You can also register to join one of two launch events that will be held on 19 May 2022: