World Ocean Council agreement with Barcelona City and Port strengthens development of global Blue Economy hub; Barcelona to Host SOS 2022 and Inaugural Global Blue Finance Summit (BlueFIN) in October
The World Ocean Council (WOC), City of Barcelona and Port of Barcelona are partnering to develop the leading global hub for the Blue Economy — which will now include the headquarters for WOC, the global Blue Economy Business and Investment Organization.
WOC's events and activities will complement Blue Economy efforts in Barcelona and its port, as well as strengthen the city's leadership commitments. To celebrate this new partnership, Barcelona will host two World Ocean Council events:
Sustainable Ocean Summit | SOS 2022 – 17-18 October
Global Blue Finance Summit | BlueFIN 22 – 19 October
---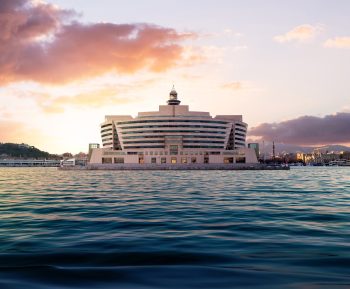 Both events will be held at World Trade Center Barcelona — a state-of-the-art conference center and architectural gem on the Barcelona waterfront, adjacent to the city's historic center.
Anna Majó, Innovation Director from Barcelona Activa and leader of Blue Economy strategy in the city, said that this "not only reaffirms the role of the city as a capital of the Blue Economy with a Mediterranean projection, but positions the city globally. With the impetus of the Blue Economy, Barcelona will continue to promote innovation and sustainability linked to the maritime economy, creating new economic opportunities, talent and employment for this seaside city."
Santiago Garcia-Milà, Deputy General Manager of Innovation and Business Strategy of the Port of Barcelona and former President of the International Association of Ports and Harbours (IAPH) from 2015-21, encouraged the entire port community (including more than 500 companies) to take advantage of this partnership to boost Blue Economy initiatives. "Our new Innovation Plan sets up very ambitious goals in terms of social and environmental sustainability for the Port of Barcelona," he said. "Collaboration and alliances are key. We believe the World Ocean Council headquarters at the Port area will boost cooperation within the Blue Economy ecosystem, with the Port area as its epicenter."
WOC Founder and CEO Paul Holthus stated: "We are excited and honored to be a part of Barcelona's vision to develop the leading global Blue Economy center by hosting the WOC in this vibrant global port city. Barcelona will be the place where industry, investors and innovators meet and work to create leadership, collaboration and action in support of a healthy ocean and corporate ocean responsibility."
Since 2010, the Sustainable Ocean Summit (SOS) has been the only global, multi-industry gathering for the business and investment community with a focus on ocean sustainable development. SOS 2019, with its theme of Investing in Ocean Futures: Finance and Innovation for the Blue Economy is the most comprehensive global Blue Finance event organized to date.
SOS 2019 gave rise to the 1st Global Blue Finance Summit (BlueFIN), an international conference dedicated to ocean finance and sustainability. SOS and BlueFIN will continue to be held in key locations around the world, but will return to their new "home port" of Barcelona every 2-3 years.
Watch this space for updates on conference venue, programs and speakers, or subscribe to get updates on SOS and BlueFIN delivered to your inbox.