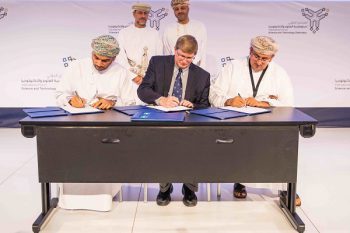 The Ocean Economy and Future Technologies Conference which concluded in the Omani capital Muscat recommended to nominate the Sultanate to spearhead international efforts to achieve Goal 14 on the development of ideas in support of the United Nations Programme for Sustainable Development (Underwater Life).
The conference also recommended holding a number of preliminary understandings with a number of international institutions to build national capacities in the ocean economy and to agree on technical cooperation programs with the World Ocean Council to develop the skills and competencies of Omani youth in the area of innovative industries associated with the ocean economy.
The conference was held under the patronage of Sayyid Badr bin Hamad bin Hamoud Al Busaidi, Secretary General of Ministry of Foreign Affairs, as part of the agenda of the International Forum Science and Technology Diplomacy (IFSTD), and was organised by the Ministry of Foreign Affairs.
On the sidelines of the conference, two memoranda of understanding (MoUs) were signed between Oman Aviation Group (OAG) and the Omani International Logistics Group (ASYAD ) with the World Ocean Council on the transfer of knowledge and the development of an institutional programme for the ocean economy and the exchange of information and data for technical purposes and projects, in addition to discussion of  future opportunities for cooperation between the two sides.
During the conference, Al Wusta Fish Industries Company was inaugurated, Oman News Agency (ONA) reported.
– Bahrain News Agency
Original article: https://www.bna.bh/en/news?cms=q8FmFJgiscL2fwIzON1%2BDu8KBJzMkC5LAM7ardqqS0Y%3D