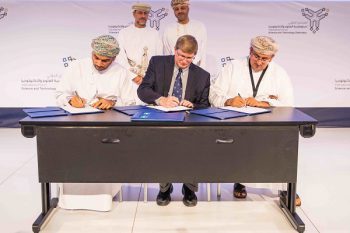 Oman Aviation Group said it has signed an agreement with the World Ocean Council to share the know-how, expertise and opportunities affecting corporate ocean economic platforms.
The MoU was signed during the closing ceremony of the Ocean Economy and Future Technology Conference, a three-day conference that brought together international speakers, delegates and panelists at the Oman Convention and Exhibition Centre.
As the country's aviation sector developer, Oman Aviation Group enables growth and development across the sultanate by linking various economic sectors.
With fisheries, sea-to-air cargo, and cruise tourism playing a key role in advancing Oman's economy, the group recognizes the importance for responsible ocean management and stewardship.
The World Ocean Council, for its part, brings a depth of ocean industry expertise along with a commitment to promote and ensure sustainable development for a healthy and productive global ocean.
CEO Mustafa Al Hinai said: "This MoU sets a framework for collaboration and sharing of innovative ideas, expertise and know-how. Our aim is to join efforts in balancing sustainable ocean practices with economic objectives."
Paul Holthus, the founding president and CEO of World Ocean Council, said: "We are honoured and excited to work with Oman Aviation Group, other leadership companies and investors, and the sultanate to advance the sustainable ocean economic development of this amazing country."
It is the only international, cross-sectoral alliance for private sector leadership and collaboration in ocean sustainability, stewardship and science.
Companies from a range of industries worldwide are distinguishing themselves as leaders in "Corporate Ocean Responsibility", including: shipping, oil and gas, tourism, fisheries, aquaculture, mining, renewable energy, ocean technology and investment, he added.
– TradeArabia News Service