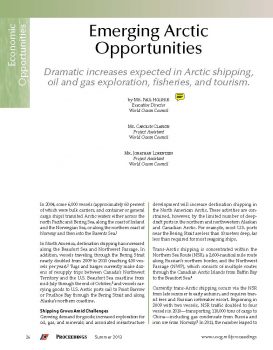 Click here to access the full article.
In 2004, some 6,000 vessels (approximately 60 percent of which were bulk carriers, and container or general cargo ships) transited Arctic waters either across the north Pacific and Bering Sea, along the coast of Iceland and the Norwegian Sea, or along the northern coast of Norway and then into the Barents Sea.
In North America, destination shipping has increased along the Beaufort Sea and Northwest Passage. In addition, vessels traveling through the Bering Strait nearly doubled from 2009 to 2010 (reaching 430 vessels per year).2 Tugs and barges currently make dozens of resupply trips between Canada's Northwest Territory and the U.S. Beaufort Sea coastline from mid-July through the end of O ctober,3 and vessels carrying goods to U.S. Arctic ports sail to Point Barrow or Prudhoe Bay through the Bering Strait and along Alaska's northern coastline.