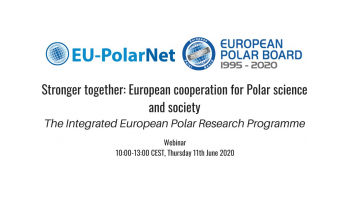 Stronger Together: European Cooperation for Polar Science and Society – The Integrated European Polar Research Programme
Date: 11 June 2020
Time: 10:00-13:00 CEST
The European Polar Research Programme is the outcome of a five-year process of co-designing and developing a future research agenda for Europe. It represents a bottom-up community effort, building on the challenges and needs raised by all who are affected by the ongoing changes in the Polar Regions. It has been designed using a truly transdisciplinary approach and aims to bridge the knowledge gaps in and between natural and social sciences, the economy and society in the Polar Regions.
WOC Executive Director Christine Valentin co-presented as co-author of Research Need 5: Challenges and Opportunities for Polar Operations. For more information on the webinar agenda, click here.
EU-PolarNet, within which the WOC is an Industry Partner, is the world's largest consortium of expertise and infrastructure for polar research. Seventeen countries are represented by 22 of Europe's internationally respected multi-disciplinary research institutions. Since 2015, EU-PolarNet has been developing and delivering a strategic framework and mechanisms to prioritize science, optimize the use of polar infrastructure and broker new partnerships that have led to the co-design of polar research projects delivering tangible benefits for our society. By adopting a higher degree of coordination of polar research and operations than has existed previously, the consortium engages in closer cooperation with all relevant actors on an international level.