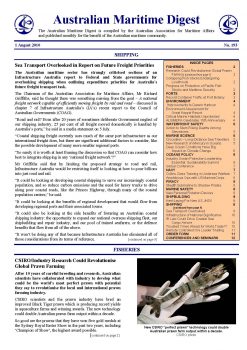 Click here to access the full article for the Australian Maritime Digest.
More than 150 business leaders from a range of ocean industries – including shipping, oil and gas, fisheries, aquaculture, mining and offshore renewable energy – took part in the World Ocean Council's (WOC's) inaugural Sustainable Ocean Summit (SOS) in Belfast, Northern Ireland, in mid-June.
With the theme of Reducing Risk, Increasing Sustainability: Solutions through Collaboration, the SOS covered a range of ocean stewardship issues including marine spatial planning, the Arctic, biodiversity, marine debris, and sound in the marine environment.